4x4 Classifieds
Oct 15, 2012
Full engine and trans with related wiring/ecu/starter/driveshaft etc. Just pulled last weekend. The engine ran well and didn't give me any problems. The trans not so much, I don't know if it's just old or what but it seemed a little soggy and it would overheat sometimes (the trans, not the engine). Selling as a package. Engine/trans have ~240 km on them.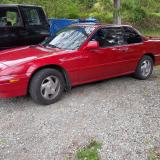 Jun 29, 2012
Please delete this topic if you don't want non-4x4 vehicles included in here. Just trying to get rid of it to finish my truck. http://www.usedvictoria.com/classified-ad/1991-Honda-Prelude-Si_17434040
Jun 23, 2012
As title says. I'm interested in getting started in some wheelin. I don't mind what it is. I just don't want anything that's a V8 and no pathfinders. :P Things of most interests are Suzuki sammys/sidekick/tracker/etc, Toyota 4 runners, Jeeps. But if you are selling anything else let me know!
Pages